Access Storage - Stouffville
12230 Kennedy Road, Stouffville, ON
1ST 4 WEEKS FREE *
Photos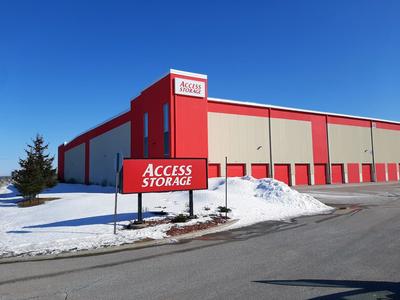 Hours
Office Hours

| | |
| --- | --- |
| Mon-Sat | 9:00am to 5:00pm |
| Sun | closed |
Access Hours

| | |
| --- | --- |
| Sun-Mon | 6:00am to 10:00pm |
About Access Storage - Stouffville
We are Canada's  #1 storage company and have the metal to back it up, winning numerous service awards such as the Consumers Choice Award for the best storage company. No matter what your storage needs or how long you will be renting, Access is the perfect storage solution. 

Most of our facilities offer 1st 4 WEEKS FREE or FREE MOVE IN VAN. Call now for details!
* 1st 4 weeks free - subject to availability
Features
Climate Control
Drive-up Access
24/7 Security Monitoring
24 Hour Access
Drive-in Loading Bay
Packing Supplies
Dollies & Carts Available
Payment Options
Moving Truck
Hours
Office Hours

| | |
| --- | --- |
| Mon-Sat | 9:00am to 5:00pm |
| Sun | closed |
Access Hours

| | |
| --- | --- |
| Sun-Mon | 6:00am to 10:00pm |
Facility Reviews
---
Extremely clean and professional. The ease of access and the promotions make this the only choice! And if the actual practicality and prices of this facility don't convince you it will be the extremely sweet husband and wife team who run this location. They couldn't have been more understanding and accommodating. I strongly recommend giving this location your business and having the peace of mind that comes with the customer service.
---
Very knowledgeable, friendly and nice. They took the time with me to answer any questions I had. Also, they were very accommodating as I needed to change my unit for a certain reason. Thanks H & R
---
I rented a 10 x 10 locker for just over a year from this location. The people who manage the building are really nice, friendly, great communication and very helpful moving in. They gave me 4 weeks free storage and use of the van at a low cost, to move my items into the unit. Never had an issue with billing or access to my unit. The building is very clean. A little pricey but worth the money for indoor secured storage. Would highly recommend this location to others.
---
Having been in business since 1989 we have been in every imaginable kind of storage facility you could think of. They are all good, but Access Storage 12230 Kennedy Road Stouffville is the only storage facility that we refer people to. That says a lot about Access because we are probably the most particular moving company around when it comes to where we feel good about where we store our clients belongings, and oh yes the staff really are wonderful people. Clarkson Auctions & Movers Inc.
---
We have 4 units for the business I am working for. The staff are always super friendly and helpful. The ease of access with trucks and availability of pump truck for moving skids around makes my job easier when moving skids in and out.